Takriban watu 14 wamefariki baada ya ndege iliokuwa ikiwabeba abiria 98 na wafanyakazi kuanguka nchini Kazakhstan , kulingana na maafisa wa uwanja wa ndege wa nchi hiyo. Wanasema kwamba ndege hiyo ya Bek Air ilianguka muda mfupi baada ya kupaa katika uwanja wa Almaty mapema siku ya Ijumaa.
Ripota wa Reuters anasema kwamba kulikuwa na hali mbaya ya hewa huku kukiwa na ukungu mzito katika eneo la mkasa ijapokuwa bado haijulikani ni nini kilichosababisha ajali hiyo.
Ndege hiyo ilikuwa ikielekea katika mji mkuu wa Kazakhstan wa Nursultan kutoka mji mkubwa wa Almaty.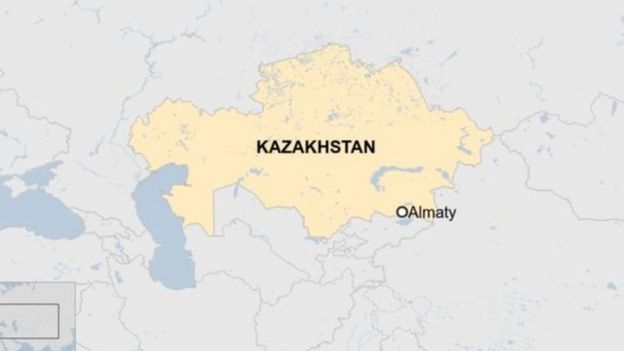 Amesema kwamba kwamba ndege hiyo ilipoteza mawasiliano mwendo wa saa moja na dakika 22 , kabla ya kugonga kizuizi kimoja na kuangukia nyumba ya ghorofa mbili.
Hisia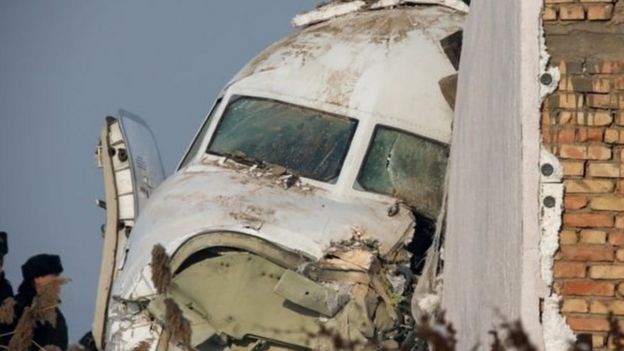 Picha za waokoaji wakijaribu kuwasaka manusura katika eneo la mkasa huo zimeanza kutapakaa, ndani yake mwanamke anasikika akiitisha gari la Ambyulansi.
Ndege hiyo haikuwaka moto baada ya kuanguka. Tume maaluma itabuniwa ili kubaini chanzo cha kuanguka kwa ndege hiyo.
Rais wa Kazakhstant Qasym-Jomart Toqayev alisikitishwa na mkasa huo na kuwaomboleza waathiriwa.
Pia alisema kwamba wale wote waliohusika wataadhibiwa kulingana na sheria.
Flight #Z92100 was performed by a 23 years old Fokker 100. Last photo of this aircraft in @JetPhotos database was taken in June 2018 and it looks like the aircraft has been repainted since that.https://t.co/bhxdjUUVmYhttps://t.co/cC53Jx8HQu pic.twitter.com/HLviY6bMOl

— Flightradar24 (@flightradar24) December 27, 2019
Kinachojulikana kuhusu Bek Air
Bek Air ilianzishwa 1999 , ikilenga kuwabeba watu maarufu kulingana na tovuti ya kampuni hiyo.
Siku hizi kampuni hiyo inajielezea kuwa kampuni ya bei ya chini zaidi nchini Kazakhstan. Ina ndege 100 aina ya Seven Fokker.
Ifahamu ndege aina ya Fokker-100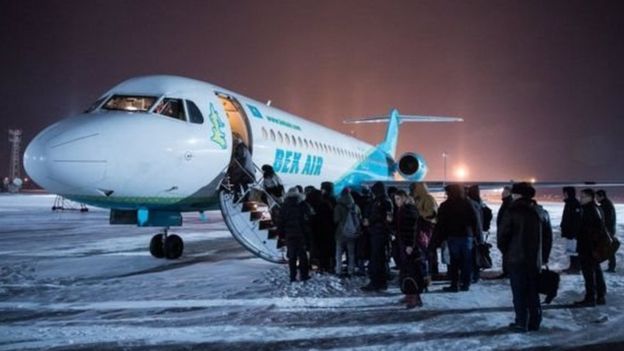 Ilinzisha ndege yake ya kwanza 1986.
Ni ndege ya kadri ilio na injini mbili mbali na matumizi ya chini ya operesheni zake
Kwa jumla takriban ndege 283 zilitengenezwa
Ujenzi wake ulisitishwa 1997.
Hii sio ajali mbaya ya kwanza inayohusisha ndege katika mji huo- tarehe 29 mwezi Januari 2013, ndege ya abiria iliokuwa aikisafiri kutoka mji wa kaskazini wa Kokshetau ilianguka karibu na Almaty na kuwaua watu 20.
Mwezi mmoja kabla , tarehe 26 Disemba 2012, ndege ya kijeshi iliokuwa ikiwabeba maafisa wakuu wa jeshi la Kazakhstan ilianguka kusini mwa taifa hilo na kuwaua watu 27.
By Ally Juma.