NBA free agency is always a wild time that alters the look and feel of rosters around the league. While this year failed to produce a Kevin Durant to Golden State or LeBron James to the Lakers kind of moment, the past week of trades and signings has still packed a punch.
Let's dive into the seven new acquisitions — spread across true title contenders, playoff hopefuls and 2020 disappointments — who have the most potential to reshape the NBA landscape in the rapidly approaching season.
MORE: NBA trade tracker and grades
---
Over the past two seasons, the Bucks have become a regular-season juggernaut by pairing an elite defense with a top-10 offense. Now they have Holiday, one of the best two-way playmakers in the game. He has the potential to help alleviate Milwaukee's biggest flaw: its inability to execute playoff offense.
Eric Bledsoe simply wasn't good enough in the past two postseasons. He shot just 29.5% on jumpers during the 2019 and 2020 playoffs — third worst among 65 players with at least 75 attempts.
Worst FG% on jumpers (2019 and 2020 postseasons)
• Russell Westbrook: 29.1%
• Pascal Siakam: 29.1%
• Eric Bledsoe: 29.5%
Source: Second Spectrum, min. 75 attempts
Those bricks proved costly. Holiday's shooting efficiency is more competent than elite, though Milwaukee will take the upgrade. And his ability to create looks for teammates gives this team another way to generate looks down the stretch of intense games. Pelicans shooters averaged 1.25 points per shot on Holiday's 723 assist opportunities last season, per Second Spectrum data.
History indicates Holiday won't wilt under pressure, enabling Khris Middleton and Giannis Antetokounmpo to play more off the ball and threaten defenses in diverse ways. This is a formidable big three on both ends.
On defense, Holiday held opponents to 40.5% shooting as the closest defender in 2019-20, per Second Spectrum tracking. That ranked fifth best among 167 players to defend at least 500 shots. The only players with better marks: Antetokounmpo, Anthony Davis, Wesley Matthews and Rudy Gobert.
Still, that's only part of the story. Holiday put up those staunch numbers defending some of the best guards in the game. He directly defended 2020 All-Stars 965 times, the fourth most by any player last season. That's bad news for Eastern Conference guards hoping to torch the Bucks.
---
No offseason transaction changed the short-term outlook of an NBA team as much as the Paul trade.
By mixing in Paul, Phoenix immediately becomes a legitimate playoff contender for the first time in years. The excitement centers on the Paul and Devin Booker pairing. One of the shrewdest playmakers ever is teaming up with an elite young scorer who has never shared the floor with another superstar, let alone one who creates clean looks the way CP3 does.
But Booker might not even be the biggest beneficiary of Paul's arrival. Deandre Ayton and Mikal Bridges have quickly become the exact kinds of scary off-ball threats Paul loves. Ayton can pressure the rim on pick-and-roll plays, and Bridges, who made 42.4% of his 99 corner 3s last year, will benefit from Paul's dimes in that exact spot. Factor in Dario Saric and Jae Crowder and this team should have beautiful geometry.
The Suns were one of the most pleasant surprises of the bubble, posting the league's best net rating while going undefeated. They became an attractive landing spot for one of the most gifted playmakers in the world who still has something to prove. This promises to be the best Phoenix team in a decade.
---
Watch out, the defending champions got better. While JaVale McGee and Dwight Howard are gone, the arrivals of Gasol and Harrell immediately fill that void and give the Lakers some awesome lineup options in a frontcourt anchored by Anthony Davis.
Gasol is a defensive maestro with championship experience who will only make the Lakers better on that end, especially near the rim. According to Second Spectrum tracking, the Toronto Raptors allowed 0.86 points per direct drive when Gasol was the help defender. That is the fourth-best efficiency allowed among 60 players helping on at least 400 drives. Just ahead of Gasol? Anthony Davis.
Frank Vogel has already built a strong defensive brand in Lakerland. Gasol should only help there. On offense he will deliver clever passes, set monster screens and stretch out defenses with his shooting.
Harrell is another issue entirely. The 2020 Sixth Man of the Year provides James with another elite pick-and-roll partner. According to Second Spectrum data, the James-Davis pick-and-roll combination averaged 1.17 points per play last season, the highest efficiency among 66 combinations to record 200 such plays. James now has a chance to team up with Harrell, who ranked fourth in pick-and-roll efficiency among 74 players to set 300 screens in 2019-20.
Harrell is a tricky defensive fit, and Gasol slogged through the bubble. They aren't perfect additions. But teams looking to repeat rarely get to snag this kind of talent.
---
What it do, baby?
Ibaka's move to Los Angeles immediately gives the Clippers something they didn't have last year: a great shooting big. Ibaka is coming off one of his best offensive seasons, averaging a career-high 15.4 points while shooting 51% from the field and 39% from 3. He's also still efficient in the paint when he needs to be.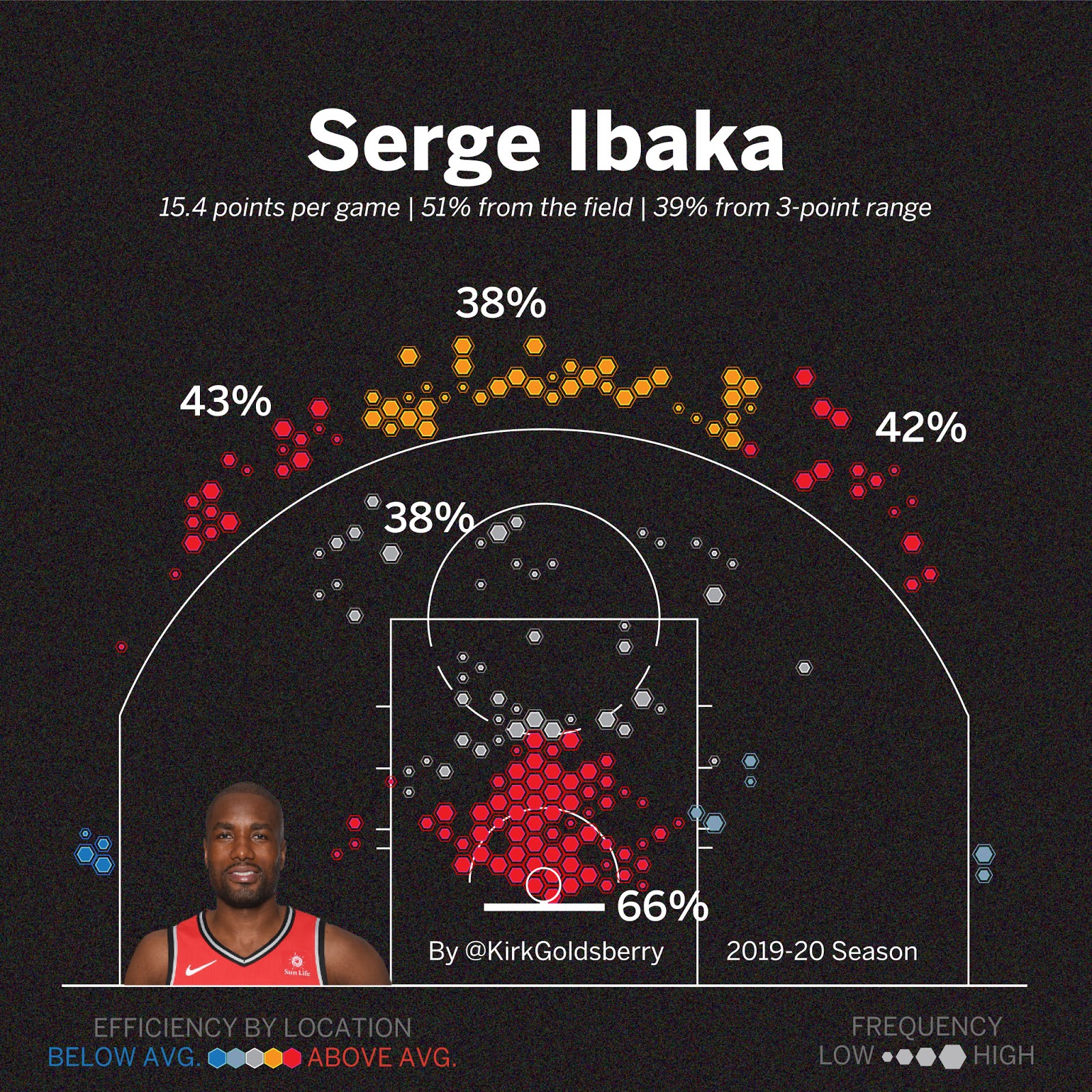 Will Ibaka's productivity fit as well alongside Kawhi Leonard and Paul George, and can it adequately replace Harrell's output? Over 90% of Harrell's shots last year came inside 10 feet, and only 50% of Ibaka's came from that range.
The switch from Harrell to Ibaka isn't just a change in personnel, it signals a change in style for the LA offense. Ibaka will stretch where Harrell pressured the rim. What that means for Leonard and George will be fascinating to watch.
---
Everyone knows Daryl Morey loves 3-point shooters, but so does Ben Simmons. While Morey's teams have shattered 3-point shooting records for years now, Simmons has arguably become the NBA's best young 3-point assister. He's ranked in the top five in 3-point assists in each of the past two seasons.
It didn't take long for Morey to make his mark in Philly, promptly ending the Al Horford experiment and securing some shooters to stash around his electrifying young shot creator.
Yes, Green missed a big shot in last year's NBA Finals to cap an extended cold streak. He might not be Robert Horry, but Green has been a reliable 3-and-D guy in huge moments for almost a decade now. He'll bounce back, importing tons of big-game experience into this Philly roster. If everything goes according to plan, he could put up P.J. Tucker-like numbers in the corners this season.
Curry is one of the most efficient long-range threats in the league. You don't have to worry about him delivering. He has made 45% of his 3s in each of his past two seasons. And out of 178 players who have launched at least 1,000 3s since 2013-14, he ranks first overall in efficiency.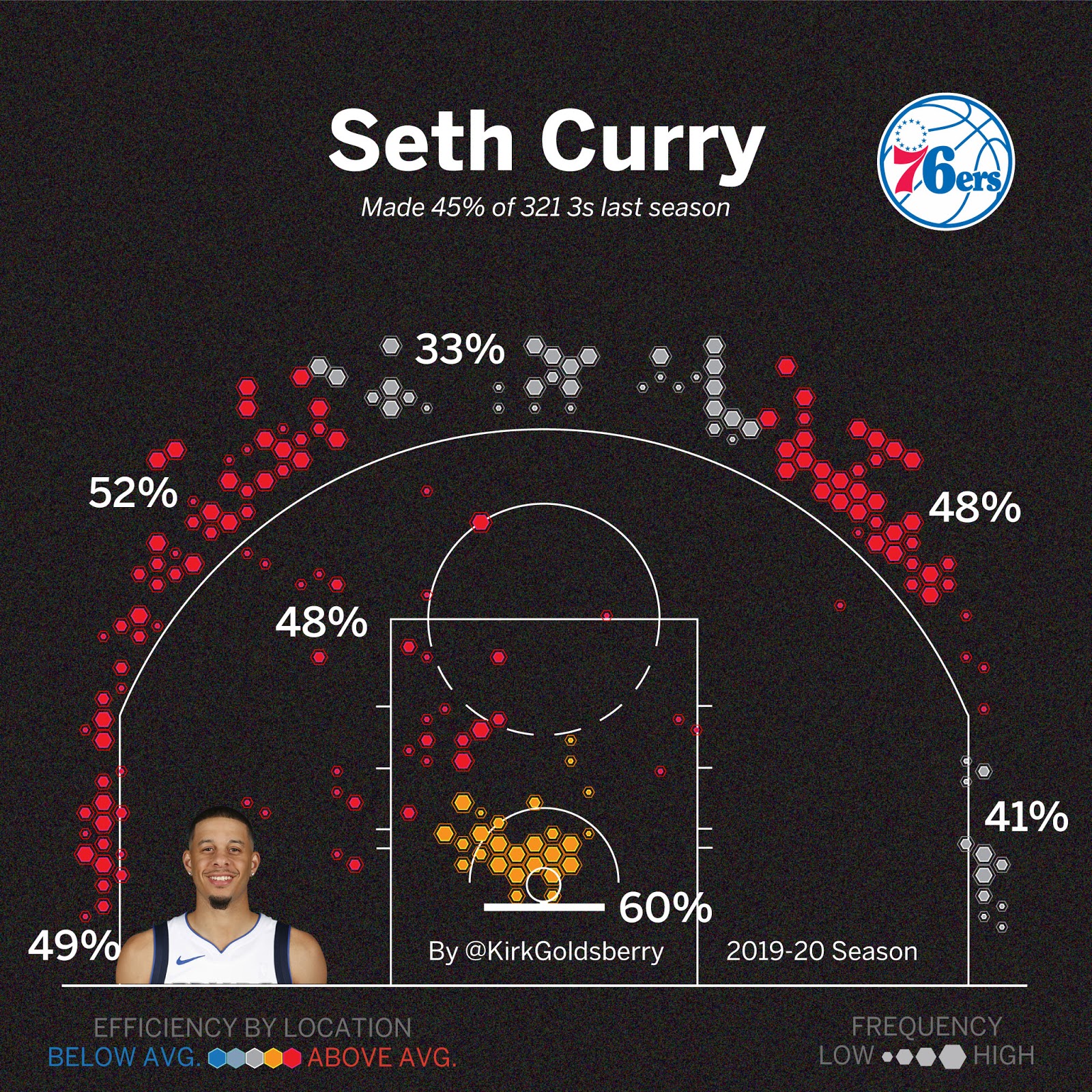 After experiencing Philly's awkward shot diet last season, watching Simmons work with these two dudes should be a joy.