Asian stocks pushed toward the highest since March 2018, led by technology and health-care firms, as investors sought out defensive sectors and backed away from bets on a massive economic stimulus package.
Gains were less pronounced in Asia Pacific trading then in the Wall Street session, though Hong Kong outperformed, while U.S. equity futures edged higher. The S&P 500 rose more than 2% and the Nasdaq 100 surged more than 4% in its best rally since April as a clear Democratic sweep failed to materialize. The reduced likelihood of a multitrillion-dollar package also prompted a rush to buy Treasuries, with yields extending losses into Thursday. The offshore yuan pared some of its overnight strength. Gauges of volatility from equities to Treasuries and currencies declined.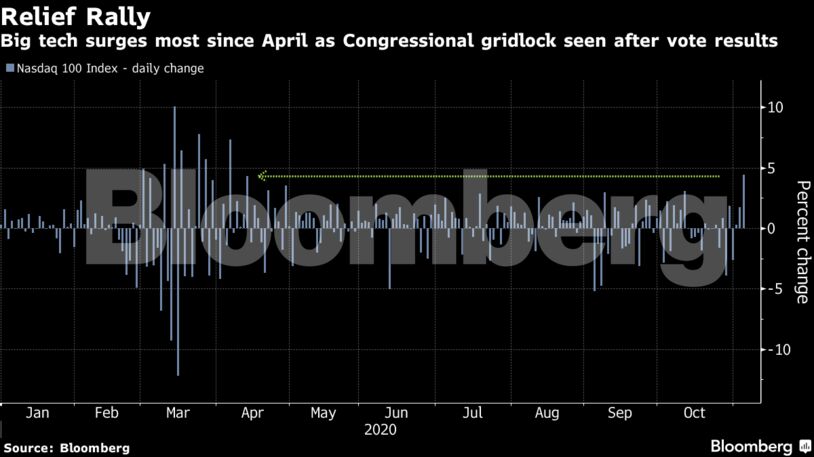 Joe Biden won Michigan and Wisconsin, putting him on the brink of taking the White House from President Donald Trump, hours after the president's team opened legal fights to stop vote counting in a least two states. Millions of votes in battleground states are still being counted, and with close contests in several key states, the presidential outcome may not be decided for days, or longer.
A narrow victory by either, coupled with a split legislature, will make it unlikely that Trump's 2017 corporate tax cuts — an important driver to stock gains — are rolled back, as Biden has pledged to do. The failure by the Democrats to clearly sweep Congress and the White House does pare back bets that traders had made on a massive fiscal stimulus package, though some aid remains likely this year.
At the same time it adds to pressure on the Federal Reserve — another crucial force behind the bull market — to pump money into an economy that was throttled by the pandemic.
"Up until about last week, the consensus belief was a full blue sweep – now that's changing you're seeing a repricing taking place in the market," Anna Han, equity strategist at Wells Fargo Securities LLC, said on Bloomberg TV. "We're seeing a boost today because a more status quo Senate may ease the burden of regulations on the tech sector."
Elsewhere, the pound retreated after a report the Bank of England could announce quantitative easing of as much as 200 billion pounds on Thursday. A decision is due at 7 a.m. London time. Asian dollar bond spreads narrowed Thursday by the most in at least three months, according to traders and a Bloomberg Barclays index. It comes after credit markets continued their optimism Wednesday in New York.
These are some key events coming up:
Federal Reserve policy decision on Thursday.
The key U.S. non-farm payrolls report is due Friday.
Earnings are due this week from companies including Bristol-Myers Squibb Co., AstraZeneca Plc and Nintendo Co. on Thursday; Macquarie Group Ltd. and Toyota Motor Corp. are set for on Friday.
These are some of the main moves in markets:
Stocks
S&P 500 futures rose 0.2% as of 11:51 a.m. in Tokyo. The index rose 2.2% on Wednesday.
Japan's Topix index advanced 0.7%.
Hang Seng rose 2.3%.
Shanghai Composite added 0.7%.
South Korea's Kospi index rose 1.6%.
Australia's S&P/ASX 200 Index gained 0.8%.
Euro Stoxx 50 futures fell 0.3%.
Currencies
The Bloomberg Dollar Spot Index was flat.
The yen was up 0.2% at 104.29 per dollar.
The offshore yuan slipped 0.4% to 6.6486 per dollar.
The euro bought $1.1727, little changed.
The pound fell 0.2% to $1.2968.
Bonds
The yield on 10-year Treasuries fell three basis points to 0.74%.
Australia's 10-year yield dropped five basis points to 0.74%.
Commodities
West Texas Intermediate crude slid 1.9% to $38.41 a barrel.
Gold rose 0.3% to $1,908.72 an ounce.
---