"What? Full nuddy?" Our son can't believe we're stripping off to bathe with strangers. We can't believe it either, but in the onsen town of Kinosaki, 2.5 hours from Kyoto, the tradition is 1300 years old, so who are we to argue.
Given our kids' delight in streaking at inopportune times (we're still trying to overturn a lifetime ban from The Louvre), it's particularly sweet for them to see mum and dad nude up too.
Kinosaki is full of families like us in hotel-supplied yukatas (gowns) and clogs, shuffling like lost Jedi clans between the town's seven public hot springs.
Each spa is fed by healing groundwater from volcanoes to meet the Onsen Law of 19 healing minerals including hydrogen, fluorine, radium, sulphur (and, our daughter swears, "Godzilla's wee-wee").
Historically favoured by Buddhist monks and wounded samurai, a traditional onsen relaxes tired muscles, lowers high blood pressure (and inhibitions), and liberates a family as only going 100 per cent nuddy can.
JAPAN: ALL YOUR QUESTIONS, ANSWERED
SORRY DISNEYLAND, WE'RE GOING HERE INSTEAD
NEVER DO THIS WITH SOY SAUCE IN JAPAN
25 THINGS TO KNOW ABOUT JAPAN
BULLET TRAINS
Travelling with two kids under 12 in Japan can make most ordinary commute a thrill-ride. Japan's rail network is clean, quiet, prompt, safe (10 billion passengers, no injuries in 50 years) and faster than a rollercoaster. The Shinkansen or "Bullet Train" will require separate payment to your intercity JR pass but it is worth every yen to ride the rails at over 320km per hour.
We'd load up on bento boxes full of fresh sashimi, karaage (Japanese fried chicken) and big cans of beer at the station then give the grommets all our coins to hit one of the country's 5.5 million vending machines for weird snacks (Cream puff soda? Flying-fish soup? Strawberry 'n' cream sandwiches!), before jumping aboard to graze, gaze and be amazed as epic scenery whizzed by.
KIDS PLAZA
Of course there's Universal Studios Japan with its new Harry Potter wing, but Kids Plaza struck us as a very Japanese form of family fun. It occupies five levels of a skyscraper themed by Discovery, Adventure, Creativity and Technology. Kids orbit Mr Hundertwasser's indoor tree of wonky halls, suspension bridges and tube slides to spit themselves out at a different magic-land at will.
Our son blows himself a body-sized soap bubble and bursts out of it while our daughter is filmed as a news anchor on TV. He then times himself crashing through walls as she creates light graphics 20m high. It was riotous fun for us all, all anchored by profound self-discovery (kids can operate wheelchairs over obstacle courses to empathise with the disabled). Warning: the "last hijinks" song to signal closing will earworm for weeks after. Family sing-a-long anyone?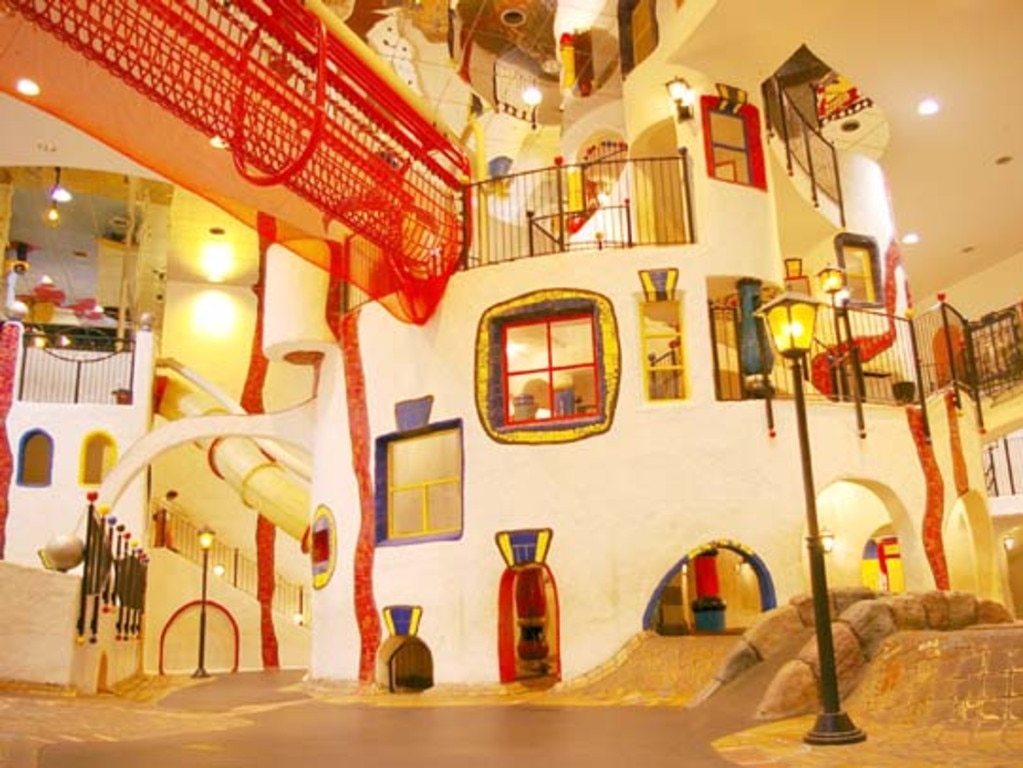 TRADITIONAL HOMESTAY
First-world problem alert! "I miss the dog!", "I miss my bed!", "I miss my friends!" Our homesick grumbles started a few weeks in. We needed a circuit breaker. To alleviate the kids' pangs for home comforts we fled to Oiso, 50 clicks out of Tokyo, to stay in a real Japanese household.
At Epinard chef Ikuko and artist husband Masami welcomed us into their creative castle built from old shipping containers. For five days we formed a crazy east-west tribe. They took us on cherry blossom picnics with their friends. Our son walked dog Livi on hikes while our daughter fed and groomed Kosuke the goat.
At night Masami and I drank local sake and raced tortoises Terry and Tonky while Ikuko taught us all to roll sushi in the kitchen. Some days we borrowed their bikes and rode to the beach. At night us adults sneaked into town for dinner and left our hosts to babysit. We treated the house as ours and they treated us not as guests but family. Home comforts? Hai!
GAMES ARCADES
The Japanese work hard and play hard. Pin-balling between cultural sites, it's crucial for families to make time for dumb fun. Luckily every town has a gesen (game centre) brimming with tipsy salarymen, squealing harajuku girls, and yakuza pining for lost digits, all blowing off steam playing crazy arcade games.
In Tokyo we hit the neon-wonderland of Super Potato and the eight-storey old-school emporium Amusement Tower. While our boy busted moves on the dance game Parapara Paradise, the girls, inspired by our enchanting visit to Studio Ghibli (My Neighbour Totoro) piled into a series of photo booths to print anime versions of themselves with mega eyes. I tried pachinko, a pinball-slot machine beloved all over Japan but frowned at as low-class. Gambling for money is illegal in Japan, so prizes are wacky knick-knacks, home appliances, or tokens to play more games. I took my winnings and wagered on our family stopping a zombie invasion single-handed. Old Japanese saying: "Family that lasers undead together, stays together".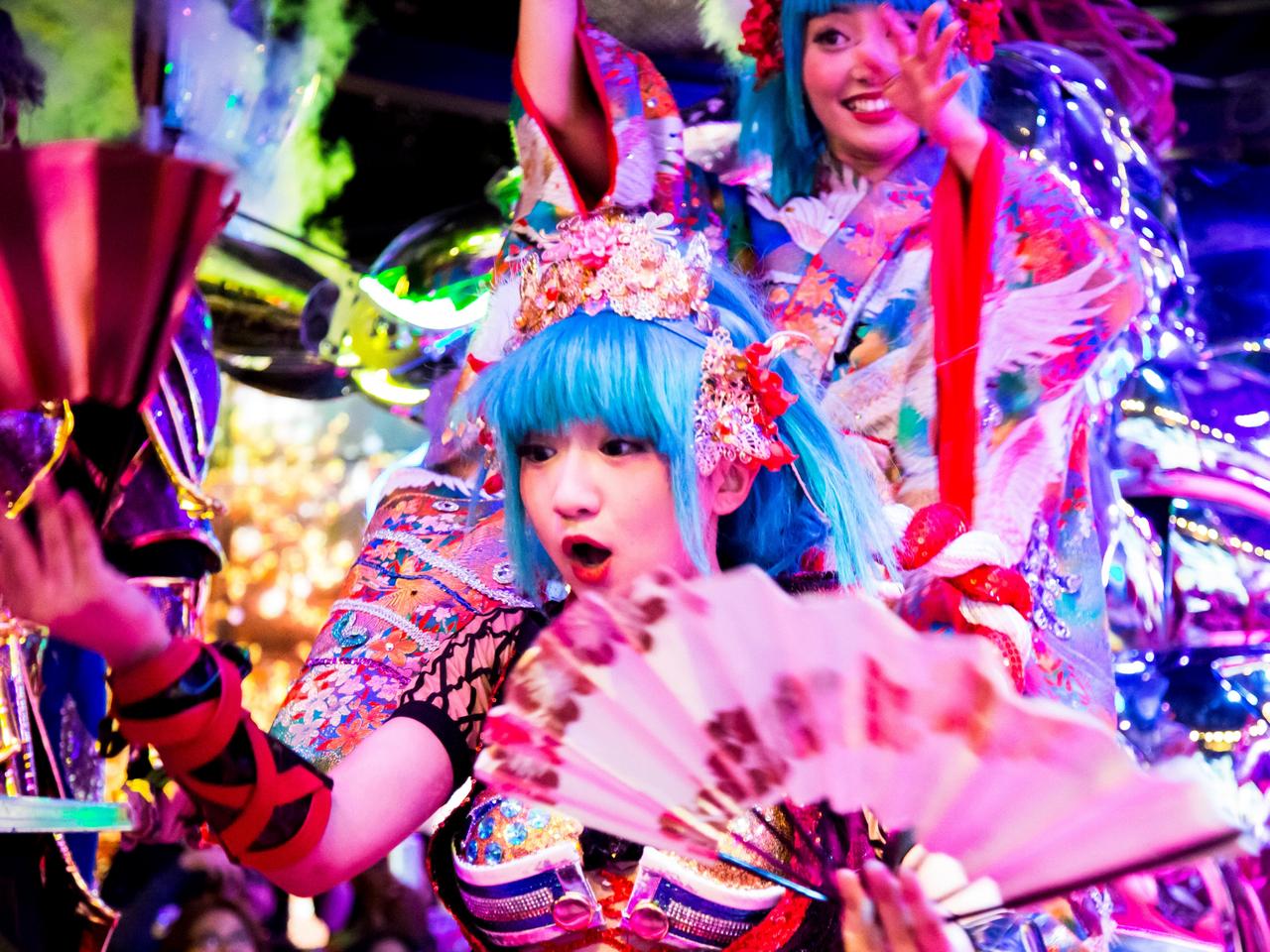 THEATRE RESTAURANTS
Japan is a mecca for dinner-and-a-show venues where you fill bellies and imaginations in one hit. Our daughter purred contentedly at Neko Cafes, cuddling kitties over coffee in 15-minute slots but older kids may prefer Kubukicho or robot restaurants, loud laser-lit shows where cyborgs battle while you feast for $A62 a ticket. In most cases the shows were fun but food was an afterthought. A reversal of that was Zauo in Shinjuku where we fished for our dinner, jigging with tiny rods for tiddlers in the tableside tanks then handing them to chefs who fried them on the spot.
WORLD'S LARGEST AQUARIUM
Gourmet grown-ups love Tokyo's Tsukiji Fish Markets but kids see marine marvels dead on ice. A truly fantastic family experience is Osaka's Kaiyukan, the world's largest aquarium, elegantly constructed to ape the natural environs of its thousands of inhabitants. We first wove through the amphibious Japan Forest where frisky otters flipped us the bird.
Inside, we watched Emperor Penguins waddling across frozen tundras. In the Pacific Rim tanks mighty whale sharks glided by like finned Ferraris while graceful manta rays floated about like UFOs.
But in Japan, kooky is king. Our kids were most awed by alien worlds of metre-tall spider crabs, artful temples of iridescent jellyfish and sci-fi grottoes for sumo-fat moray eels. And at the huge touch pool our son got a story for the ages: "Mum, I got bitten by a big shark [a gentle giant wobbegong] and it was awesome!"
NEVER DO THIS IN A JAPANESE TAXI
WHY I FELT CHEATED AFTER VISITING JAPAN
ONE THING YOU SHOULD CHECK AT AN ONSEN